Welcome to the Houston Alaska Chamber of Commerce inc.
|
home


Silverbear Sundries

New weekly Prize sponsor!!!
Shortest pike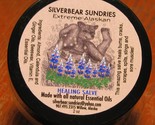 I am a mother, wife and potter here in rural Alaska. Each piece of pottery that I throw is carefully crafted, glazed and fired in my home studio...my basement that is! I am constantly finding inspiration in the beautiful outdoors, my family and my animals.
I like to say that my pottery is Functional Art, and as my friend Zolari pointed out...It Really Is! Each piece of stoneware is microwave, oven, freezer and dishwasher safe (but please use common sense!) and made to last.
Besides just the pottery, I hope you will take the time to try the "Extreme Alaskan" line of salves, balms and lotion bars.
The Healing Salve was made specifically for my longshoreman husband who needed something better than Bag Balm. This salve heals and soothes cuts, scrapes, burns, bruises...you name it! People really have a hard time believing it helps so many ailments...you must try it! I used the salve this winter on my pig's injured leg, and after a couple of applications he had drastic improvement. My friend's son used it successfully on his frost bitten ear this spring.
These are just a couple of the salves many successes. It really is an amazing salve.
Although the natural scent of the Healing Salve is great, I was searching for something a little more feminine and created the Mountain Mamma Balm. This salve has all the same properties of the salve, but with a luscious scent.
The Extreme Alaskan line of lip balms provides protection and prevention for your lips in 3 great scents....
Vanilla Mint
Arctic Pomegranate
Denali Frostbite
Besides being made with the highest quality ingredients I can find, and actually working great...the salves and balms have the cutest labels and make perfect gifts. My mother designed the Bear in the Tub logo, which was a design years in the making! (Thanks mom!)