Welcome to the Houston Alaska Chamber of Commerce inc.
|
home


2011 derby stats

Bob Witz-125 total 20 in shortest 25 7/8 longest 3 lb 6 oz heaviest
Dan Trotter-1 total 13 inches
Greg Busch- 4 total 17 shortest 29 1/2 longest 6 lb 4 oz heaviest
Glen Malone12 total 16 shortest 24 3/4 longest 3 lb 6 oz heaviest
Heidi Sliker- 4 total 25 1/4 shortest 32 longest 7 lb 9 oz heaviest
Jason Sharlow-3 total 18 3/8 shortest 27 longest 5 lbs 7 oz heaviest
michael Donofrio -15 total 17 shortest 28 longest 11 lb 6 oz heaviest
Pat Merrigan-3 total 13.5 shortest 28 longest 5 lbs 11 oz heaviest
Trace Merrigan-1 total 15 inches
2011 STATS_
1st longest pike- 40 7/8 inches Richard Smeltzer(Prize at sportsmans warehouse)
1st Heaviest pike-Lowell Burgett 22 pounds 9 oz(Prize at Sportsmans Warehouse)
1st Shortest pike-Bob Witz 11 1/4 inches
1st Most number-Bob Witz 325
2nd Longest-Jeff Minsch 36"(Sportsmans Warehouse)
2nd Heaviest-Glen Casagrande 13 pounds 3 oz(Sportsmans Warehouse)
2nd Shortest-Mike Donofrio 12 3/4 inches (Sportsmans warehouse)
2nd Most Number of pike Jason Sharlow 124
3rd Longest-Casey Cizek 35 5/8
3rd Heaviest-Larry Schachle 12 pounds 1 oz
3rd Shortest-Trace Merrigan 13 inches
3rd Most number-Sue Schachle 42
4th Longest-Larry Schachle-35 inches
4th Heaviest-Mike Donofrio-11 pounds 6 ozPrize at Sportsmans warehouse)
4th shortest-Dan Trotter 13 inches(prize at sportsmans warehouse)
4th Most number-Casey Cizek 40
5th Longest- Larry Schachle 34 inches
5th Heaviest- Richard Smeltzer 11 pounds(Sportsmans warehouse)
5th Shortest- Patrick Merrigan 13 1/2 inches
5th Most number-Mike Donofrio 24(Sportsmans wasehouse)
6th Longest- Bob Witz 32 1/2
6th Heaviest-Sue Schachle-8 pounds 7 oz
6th Shortest- Joe Marquis-14 1/2 inches Prize at (warehouse)
6th Most Number- Larry Schachle 22 pike
Prizes can be picked up at sportsmans Warehouse
Sorry no pike at the banquet.
Join us Houston Lodge for a pizza buffet!!
1st prize-Sportsmans Warehouse Gift Card/BuschWhacker Decoys
2nd prize-Gorilla Fireworks Gift certificates and Stained Glass Pike From Raven Glass works.
3rd prize-Set the Hook Fishing strap/Sue Zajac Originals Cards
4th prize-Jonsers Jam/ Leeward Basket
5th prize-ASK enterprizes' Bags/
6th prize-Mat-Su Anglers/Made in Mat su Memberships
Drawing Prizes-Alaska Kathy Fishing trip for 2!!!
Shane Lamb Studios Large Print
Raven Glass works Stained Glass
Headquarters Custom Embroidery t-shirts
Sportsmans Warehouse Gear
3 Rivers Fly and Tackle Gear
Duplex Squirrel House
ASK Enterprizes Bags
Sue Zajac Originals
Silver Bear Sundries Hand Made Pottery

Houston Fire Dept will be providing Smoke alarms for all categories.
Nancy's Market Bags will be donating Pike Derby Bags for prizes.
Houston Lodge-Mile 57 Parks
AK Cozy Coal-Mile 49 Parks
Sportsman's Warehouse-Wasilla
3 RiversFly and Tackle-Wasilla
Thanks to the Mat-Su Anglers Pike Party helpers!!!!
We had 2 spearing holes this weekend at Prator.
Thanks also to Dawson Sult Services for the Fire pits, ice house and really cool Squirrel houses for prizes!!!!
Prator Lake Pike Parties Starting March 6 @ noon. Every Sunday in March!!!See you there..............
Thanks to all our great fishing families!!!! total checked in the 2011 Mat-Su Pike derby!!!
Special thanks to our weekly prizes sponsors- Raven Glass works, Sue Zajac Originals, Headquarters Custom Embroidery, and Knik Knack MudShack .
Weekly Winners-
Congatulations to: 2/6/2011 weekly winners
Pat Merrigan-Weekly winner of the longest pike-28 inches, shortest pike 13.5 inches,
Bob Witz- Most # of Pike 30,
Mike Donofrio-Heaviest Pike 11 lbs. 6 oz.
Thank you to our great prize sponsors, Sue Zajac, Raven Glass Works, Dawson's Squirrel and Bird houses, Nancy's Market Bags, Knik Knack Mud Shack. Prizes can be picked up on wednesday at Sportsman's Warehouse Wasilla after 12 noon. Please share this with everyone!!!
Weekly Prize-2nd 2/14/11 WEEKLY WINNERS!!!!!
Greg Busch Longest 29 1/2 and Heaviest 4 lb 4 oz
Trace Merrigan-Shortest 15 inches
Bob Witz-Most Number 66 pike!!!!!!!96 total for Bob
Week 3 ending 2/22/11 one extra day for Presidents day.
This weeks winners are:
longest - Hiedi Sliker 32 " new derby leader also.T
Shortest- Dan Trotter - 13 inches new derby leader alsoT
Heaviest- Jason Sharlow -5 pounds 7 oz T
most number of Pike - Bob Witz 29 this week 125 total this derby TT
Special thanks to our weekly prizes sponsors- Raven Glass works, Sue Zajac Originals, Headquarters Custom Embroidery, and Knik Knack MudShack .
Week 4 ending 2/28/11
Jason Sharlow for the most number of pike this week 46!!T
Susan Schachle-Heaviest pike 6 pounds 3 ozT T
Jeff Mincsh-Longest Pike and new derby leader 36"(11 pounds 10 oz)T
Bob Witz-Shortest Pike this week and new derby leader!! 11 1/4 "
Week 5 Results ending 3/7/11
Heaviest-Mike Donofrio- 3 pounds 11 oz
Longest Bob Witz -27 1/4"
Shortest Bob Witz -17"
Most number Bob Witz 51 (49)
Mat-Su Pike Derby
Week 6 Results for the Mat-Su Pike Derby 2011
Longest 40 7/8 inches(18.9 pounds) Richard Smeltzer
Heaviest 13.3 pounds Glenn Casagrande
Shortest 13 inches Trace Merrigan
Most # in one week Bob Witz 51 pike total for Bob 259
...2 new leaders!!! Congratulations Glenn and Richard you can pick up your prizes at sportsman's warehouse Thursday 17th
Week 7 Final Weekly prizes March 21, 2011
Heaviest- Richard Smeltzer-11 pounds
Longest- Casey Cizek-35 5/8 inches
Shortest-Mike Donofrio 12 3/4"
Most number - Casey Cizek 40T
Prator lake Pike Parties this Sunday noon till 5 every sunday in march.

Raven Glass Works-
Smallest Pike weekly and 2nd place trophy
Headquarters Custom Embroidery-
Special edition t-shirt for the this derby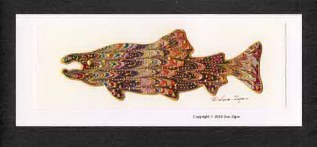 Sue Zajac Originals-Alaskan Cards
Knik Knack Mudshack-Native Clay Cup
Nancy's Market Bag- All Weekly Prizes delivered in a custom bag!!
Dawson's Bird and Squirrel houses
Prizes will be at Sportsmans Warehouse on Wednesday around noon:)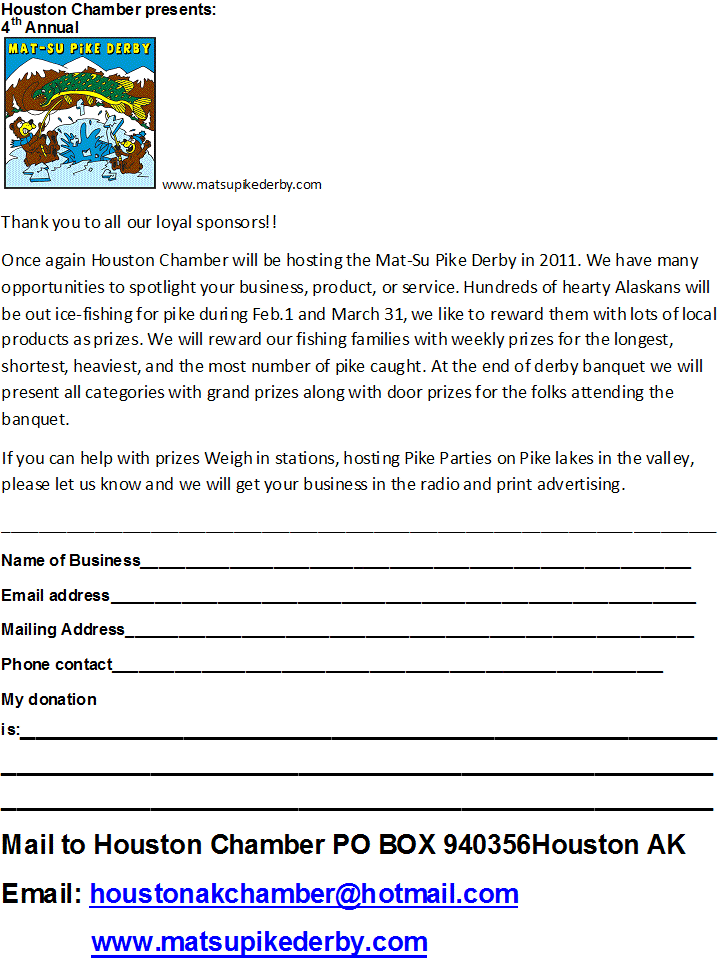 The Concerned
Throwing money down the pike hole in Alaska

Scott Woodham | Jan 14, 2011
TO: Southcentral Alaska's Pike
SUBJECT: Your future cost
Dear Non-native Northern Pike,
We The Concerned hope you're having a nice winter because as soon as the ice melts, things are going to get crazy. And we don't mean your spawning season. You're going to have a heck of a time trying to stay alive, especially if you live in Southcentral Alaska's Alexander Creek drainage. Luckily for you, you're really good at staying alive when humans want you dead.
You might not be aware of it, but you don't belong in areas south and east of the Alaska Range, and you've been affecting salmon returns in Alexander Creek, which used to be a prime area for salmon sport fishing. We don't really blame you. We blame the humans who thought they were doing you a favor by moving you around.
No matter who's to blame, the state is about to spend a big chunk of change on you.
The Alaska Department of Fish and Game Sport Fish Division recently got a $635,000 matching grant from the Sustainable Salmon Fund to ratchet up a four-year-long program aimed at improving the numbers of sport fish in the Alexander Creek drainage, tracking your movements, and assessing the abundance of its juvenile king salmon. The grant was made possible by a general fund legislative appropriation, and Fish and Game regional supervisor Jim Hasbrouck told us in an e-mail that the Alexander Creek program is fully funded and that the Sport Fish Division intends to spend at least $965,000 on the effort over four years, beginning in 2011.
Before you get all excited about an effort to increase the numbers of "sport fish," that refers salmon and others, not you. You're actually going to be tracked and targeted by an intense gillnetting effort to dramatically reduce your numbers on the Alexander. And let's face it, though you're delicious, fun to catch, and your heads look totally awesome hanging on fences to dry out, you're not exactly in high demand as a sport species among Alaskans or visitors.
We're concerned, of course about all this. Salmon are very important to Alaska's economy, after all, and invasive species threaten an ecosystem's balance. But we're more concerned about how resistant you have proven over decades to eradication efforts around the world. More than a few of us are afraid the state of Alaska is about to commit itself to many years of throwing money down the pike hole.
Studies of pike eradication in Europe have indicated that short-lived pike eradication efforts have been observed to actually create a net increase in the pike biomass in a given habitat. Scientists concluded that targeting pike intensely in one year, or every few years, actually decreases the competition faced by smaller pike, which pose more of a threat to salmon fry.
Several studies in England have also found that after recovering from an initial post-cull drop, your population rebounds, often beyond what it was before the culling. Basically, an affected waterway is left with more, smaller pike. Multiple studies indicate that the most successful pike eradication efforts are sustained across many years and include a focus on small pike.
Large pike apparently aren't as great a threat to young salmon as smaller pike are because large pike cannibalize smaller pike, in effect helping humans out. Which could be one reason why you're so resistant to current efforts to control your population in Southcentral. The bag limits on you in your non-native range have been outrageously high or non-existent for a while now, and Fish and Game has been doing practically everything to get Alaskans to kill as many of you as they can. But anglers tend to use gear that selects for large individuals. None of us The Concerned have seen anyone fishing for little invasive pike with cute little treble hooks.
In fact, we've rarely seen people in Southcentral fishing for you at all. The state doesn't seem to have plans to change that. There hasn't been much marketing of pike fishing tourism (and Scandinavia would love to know about certain unlimited bag limits). Game regulations don't require people who live near water you mistakenly infest to send in a few of your heads to be eligible for king salmon tags. Southcentral boroughs haven't declared a new pike-fishing holiday to give everyone a three-day weekend. And the state doesn't allow people to fulfill court-mandated public service hours or work-release by catching you.
We're pretty sure that Fish and Game knows it has a tough job getting rid of you. Unfortunately, the major alternatives (like poison, weirs, traps or dynamite) could harm salmon, as discussed in the pike control program's plan (.pdf). And one California community has already discovered that burning you in effigy has no effect on your numbers at all.
So, the alternative to spending lots of state money trying to kill you are pretty thin. And we're concerned that money could be used for greater effect, say, for Yukon River kings. But that's not a sport fishery, is it?
At first, we thought we'd try to warn you about the danger you're about to face next year. After all, a four-year plan with lots of gillnets sounds really serious. But then we realized: Gillnets target large pike, and four years will be over before you know it. And as many Fish and Game biologists who know you stand a good chance of surviving the onslaught, there are likely many more legislators and governors who think you won't.
Maybe then the state will just give up, hand Alexander Creek drainage over to you, and start buying ad space in Scandinavian versions of Field and Stream.
Rock and Roll,
The Concerned
Contact The Concerned This e-mail address is being protected from spambots. You need JavaScript enabled to view it
Read more of the Dispatch
Onshore blowouts, an 'Outside' chance
The other Prince William Sound spill
Solstice eclipse doesn't disappoint
Words matter -- even when Sarah Palin says them
IEA: Global temperature to rise 3.5 degrees C by 2035

Discuss
Name

Email

Title

Comment


Subscribe via email (registered users only)
Post





Member Comments

Posted By: NancylSult @ 01.17.2011 1:23 PM
Please ask Fish and Game to donate these fish to local tribes, and food banks. Pike is delicious. The State messed up by allowing this fishery to start and continue. Now they want to spend a million bucks to fix their mistake. Pike will survive and that money and wasted pike could feed alot of folks. Spend the money on making sure none of the pike are wasted. The Mat-Su Pike Derby starts on Feb. 1st and runs through March 31st. How many of you would fish for pike if I had a million dollar prize:)

+0

Posted By: Phil @ 01.15.2011 8:39 PM
The state should effect a regulation allowing no limit to the number of pike harvested and without a size limit. Also, no restrictions on method of take. The long term effect would be a reduction of the species at little or no cost to taxpayers. Might even create a new industry.

+2

Posted By: Warren Gammel @ 01.15.2011 10:28 AM
Pike are fun to catch and good eating fish

-1

Posted By: Man_from_Unk @ 01.15.2011 7:13 AM
I agree with your statement, "...that money could be used for greater effect, say, for Yukon River kings." Don't forget that the King Salmon runs on Kodiak and the northwest runs in the Norton Sound area are in trouble also. Catering to a Special Interest group such as the "sport fishery" is so F&G - kowtowing to the loudest whiners or the biggest spenders. We need managers in the state system that can see the whole picture.