Welcome to the Houston Alaska Chamber of Commerce inc.
|
home


Insurance

5.06.050 Special event

permit.
A. A special event permit is required to conduct a community event and will expire upon completion of the event. All special event

permits must have final approval by the Council at least 60 days prior to the event unless specified in subsection (B) of this section.
B. The following organizations may hold special event

permits for community events without Council approval:
1. Houston Chamber of Commerce;
2. Houston Lions Club;
3. HVFD Auxiliary; and
4. The City of Houston Parks and Recreation Department: all City-sponsored community events.
C. Permanent and roving vendor permit holders space shall not be interrupted during a special event. Additional vendors may participate, without obtaining vendor permits, during an event sponsored by a special event permit holder. Special event

permit holders are required to ensure each vendor participating in the event complies with Chapter
5.04
HMC and holds a City business license.
D. Special event

permit holders shall submit to the City:
1. A certificate of insurance for a general liability insurance policy, in the minimum coverage amount of $100,000 personal injury per occurrence and $50,000 property damage, naming the City and borough as an additional insured. The certificate shall include provisions that the City will be notified within 30 days if the policy is modified or terminated;
2. Proof that the applicant has obtained or applied for all applicable

permits, including but not limited to state, City and borough business licenses; and
3. Any additional information requested by the City. (Ord. 04-03 § 4, 200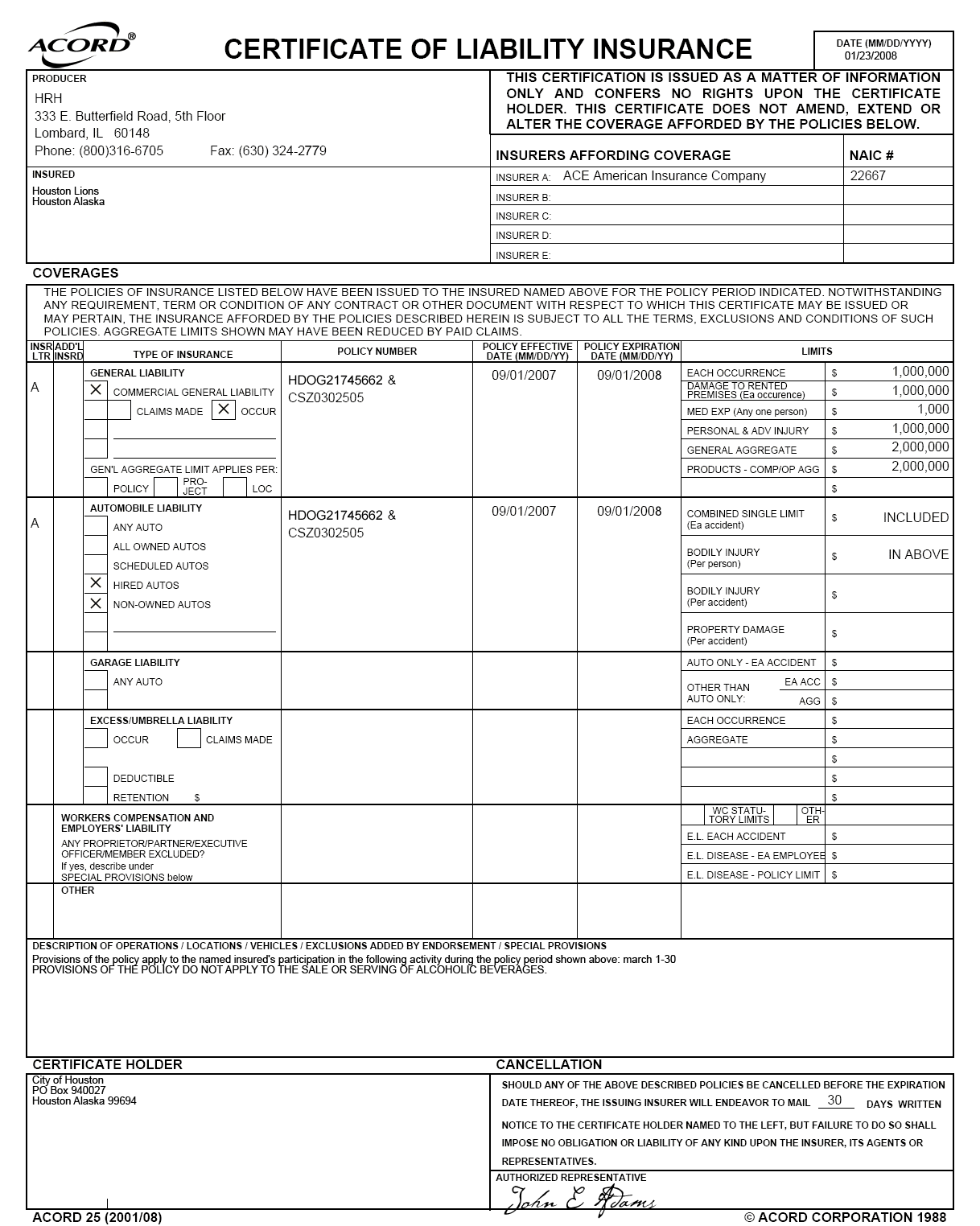 Adobe Acrobat Reader 8.1.0Lions Club Self-Inspection Checklist
Club Safety Officer ______________________________
Date of Inspection ______________________________
Please answer any questions that are applicable and correct noted deficiencies.
Parking Yes No • Are entrances and exits clearly marked?
• Is lighting adequate?
• Is parking area free of holes, cracks, puddles, ice and debris?
• Is security provided in parking area to deter robbery, theft and vandalism?
Crowd Control
• Are adequate signs posted for directing traffic flow in/out of the area?
• Are police used to direct traffic into and out of parking lots?
• Are individuals directing traffic wearing safety vests to be easily seen by vehicles?
• Are there sufficient security personnel to control crowds?
Buildings, Tents and Arenas
• Are the premises neat and clean?
• Are there an adequate number of marked exits?
• Is the number of occupants/capacity controlled?
• Do structures have adequate fire protection equipment such as automatic
sprinklers or extinguishers?
• Are all extinguishers currently tagged and tested?
• Is smoking prohibited and are signs posted?
• Is emergency lighting provided?
• Is public address system available to relay emergency messages?
• Are all aisles, stairs, etc. unobstructed?
• Are all stairways, elevated platforms, etc. adequately marked and guarded?
• Are all chairs, bleachers and tables structurally sound?
• Are all tent stakes and guy wires marked or blocked off to prevent trips?
Lions Club Self-Inspection Checklist (continued)
Food Service Yes No
• Is all food fresh and/or well refrigerated?
• Are knives and sharp objects stored properly?
• Are decorations kept a safe distance from open flames or cooking equipment?
• Are there an adequate number of properly placed litter containers?
• Is the general public blocked from entering the cooking area?
Outdoor Events
• Are the premises free of hazards to the public?
• Is there adequate distance between the action area and the viewing area to
afford protection to spectators?
• Are barriers provided to protect spectators/public if necessary?
• Is the action area secure to prevent entry of unauthorized persons?
• Are participants in games, contests and other events of proper age and in adequate
physical condition to safely participate?
• Are participants exposed to dangerous conditions?
• Do you have an evacuation plan in case of inclement weather?
Outside Operators -Contrators - Concessionaires
• Are outside parties qualified and adequately insured?
• Has your club obtained a current "Certificate of Liability Insurance" from these parties with your club as well as The International Association of
Lions Clubs added as additional insureds?
Liquor Liability
• If you sell or distribute alcoholic beverages, have you purchased Liquor Liability Coverage?
Medical Aids
• Do you have an adequate number of trained and/or professional medical personnel?
• Are all medical/first aid supplies sterile and stored in a clean location?
*** This form should be completed and kept on file for future reference.