Welcome to the Houston Alaska Chamber of Commerce inc.
|
home


Mat-Su Pike Derby Press

Houston Pike Derby continues through the month
BY TODD L. DISHER
Frontiersman
Published on Thursday, March 5, 2009 10:51 PM AKST
MAT-SU — Halfway through the Houston Pike Derby, the field is dominated by the 46-inch, 21-pound, 7-ounce fish caught by Kaleb Summit, but the prizes remain wide open.
The second annual Derby began Feb. 1 and finishes March 31. Anglers can buy a ticket before or after catching their fish, and one ticket is good for one angler throughout the derby, according to organizer Nancy Sult.
According to Sult, smaller prizes are given out each week, and the grand prizes are awarded for the entire Derby after March 31. Categories awarded include the longest, the heaviest, the shortest and the most fish. Luckily for other anglers, the monster fish Summit landed can only count for one category.

Weekly prizes include a gift certificate from Howling Storm for the longest fish, a stained glass pike from Raven Glass Works for the shortest, a $50 Visa card from Deska Landing for the heaviest and Alaska art prints from All I Saw Photos.
The grand prizes at the end of the Derby are on a sliding scale depending on the number of tickets sold. Sportsman's Warehouse donates a flat amount for each winning category, then the pot increases by $25 for every 10 tickets sold. As of Tuesday it was at $317 for first place with other donated prizes from the sponsors for second through seventh places, said Sult.
Fish have to come from the Mat-Su Borough limits, and the Houston Chamber is holding Pike Family Fun Days on Nancy Lake March 21-22. Go to www.matsupikederby.com for more information.
The basics
• Tickets are on sale at Mid-Valley Pull Tabs, Mid-Valley Senior Center, Sportsman's Warehouse, 3 Rivers Fly and Tackle, Houston Lodge, Mat-Su Resort, Deshka Landing and Houston Visitor Center, according to the Derby's website.
• The tickets are $20, and $6 of each ticket goes to a local non-profit organization. Anglers can choose to donate to Mid-Valley Seniors, Houston Lions or Susitna Rotary. The remaining proceeds go to the Houston Chamber of Commerce.
• The official weigh-ins for this year are at 3 Rivers Fly and Tackle, Sportsman's Warehouse, Deska Landing, the Tala Vista Lodge and the Houston Lodge.
Pike fishermen fly to spot
Pilot takes customers to remote locations in Alaska to spear fish
Mike Campbell - Anchorage (Alaska) Daily News
Published: Thu, Dec. 11, 2008 12:30AM
Modified Thu, Dec. 11, 2008 01:43AM
ANCHORAGE, ALASKA -- Armed with barbed poles, anglers spear-fished thousands of years ago -- centuries before the idea of using a rod and reel crossed anyone's mind.
The Book of Job asks, "Canst thou fill his skin with barbed irons? Or his head with fish spears?" Greek historian Polybius, who died in 120 BC, described hunting for swordfish using a harpoon with a barbed and detachable head.
Howard Tieden of Wasilla, Alaska, hasn't read Polybius or, for that matter, the Book of Job lately. But he knows about spearing fish through the ice, particularly in Alaska's Mat Su Borough.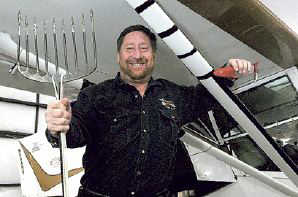 Anchorage Daily News Photo by Erik Hill - Howard Tieden offers fly-in spear fishing for northern pike at Wolf Lake in Alaska. .
For two years now, he's been flying clients out to temporary ice houses with portable heaters on nearly two dozen Mat-Su lakes, cutting big holes and waiting for pike to swim by and meet death delivered from above.
"It was a lot better than we really expected," Tieden said of his fly-in winter pike-spearing business, Arrowhead Charters. "In the huts they don't have to sit out there and freeze their butt off. Kids can go, and there's no limit.
"It's something different, something new."
Last winter was Tieden's first, and he said he had 89 clients. So he's back offering trips in November, December and March this winter.
"Now would be a good time," said Dave Rutz, the Northern Cook Inlet management biologist of the Alaska Department of Fish and Game. "The ice is only 12 inches thick, which makes cutting holes pretty easy. By January to mid-February, the pike are pretty lethargic."
Tieden sets up temporary ice houses with portable heaters to keeps things toasty. He cuts a big hole, giving anglers a view of the underwater world.
"It's like looking in on an aquarium," he said.
Productive spearing
A decoy is dropped into the water. When curious pike approach, anglers try to lure them closer.
"When [the pike] gets to within four or five feet and you're comfortable, you nail it."
The combination of warm environs and the chance to see and strike your prey -- a primal instinct that hunters know better than anglers -- sets spearing apart from the hook-and-line fishing. Typically spearing is more productive too.
Perhaps, at times, too productive.
"With all those folks after a real large pike, a lot of times you take the large fish out," Rutz said. "Large fish serve as a control mechanism" eating smaller pike to survive.
"You can end up with a lake overpopulated with a lot of stunted pike."
But Tilden said his operation isn't hitting any single lake that hard.
"We might catch 20-30 fish out a lake," he said. "We're not putting much of a dent in the population."
Not that Hart isn't trying to do her part.
Jacie Hart and husband Duane were just rigging up their ice-fishing lines on Alexander Lake near the end of the derby when the flag on a tip-up snapped up, indicating a pike had taken their herring bait. Jacie grabbed the line with cotton-gloved hands and pulled.
It wouldn't budge.
"I thought it was a little one wrapped around a log," Jacie said. "Or we had the big one."
Duane thought it was a big one. He told Jacie to grab a gaffe.
"I thought, 'What am I supposed to do with this?' " she said.
Then a prehistoric mouth with rows of sharp teeth emerged, nearly filling the circumference of the hole.
Jacie gaffed the big pike -- 26 pounds, 6 ounces--through the mouth and pulled it from the water.
Just 20 minutes after landing their Super Cub, the Harts had the longest and heaviest fish in the inaugural Mat-Su Pike Derby.
"It was unbelievable," Jacie said.
Just months later, Fish and Game staffers caught and measured about 1,400 pike in Alexander Lake over a two-week test netting period, with several longer than 40 inches.
Alexander Lake and the namesake creek that drains from it into the Susitna River once teemed with salmon and fishermen. Now it supports a population of pike that, like no other place in Alaska, has decimated the salmon fishery and the lodges that depended on those runs.
But eventually, huge pike may get harder to find too, Rutz said.
"Lots of lakes down in the Midwest they've stopped spearing because they're trying to grow the pike back," Rutz said. "The big pike are few and far between these days. You can really fish them down."
Last Updated on Tuesday, Apr 08, 2008 - 01:30:06 pm AKDT
Frontiersman.com
Wasilla, Alaska | Tuesday, April 8, 2008
By MATT TUNSETH/Frontiersman
Published on Tuesday, April 8, 2008 1:30 PM AKDT
HOUSTON — What's a pile of 835 dead pike smell like?
In Houston, it smells like cash.
And fireworks.
Anchorage's Peter Aftreth poses with his 41-inch northern pike caught earlier this winter while spear fishing with Arrowhead Outfitters. Aftreth tied Eagle River's Dan Markgraf for the longest fish entered in the ConocoPhillips Mat-Su Pike Derby. (Photo courtesy of Arrowhead Outfitters)
(Use arrows above to view more photos)

Palmer's Bob Witz took home $1,000 for winning two categories in the ConocoPhillips Mat-Su Pike Derby, which also netted more than a grand for both the Houston Chamber of Commerce and the Houston Lion's Club.
"It was better than we could have ever hoped," derby organizer Nancy Sult said Saturday.
Prizes of $500 (and a handmade pike decoy "trophy" from Buschwhacker Decoys) were awarded for first place in seven different categories, while second-place winners got $250 in fireworks from Gorilla Fireworks in Houston and third-place anglers took home a $75 gift card from Sportsman's Warehouse in Wasilla.
Witz won for turning in both the shortest pike in the derby (just more than 7 inches), and for turning in the most number of pike, with 124 fish.
The heaviest pike caught in the month-long derby was hauled in by Wasilla's Jacie Hart (26.6 pounds), while Anchorage's Peter Aftreth and Eagle River's Dan Markgraf shared the prize for longest fish when they each entered 41-inch pike. Both Markgraf and Aftereth speared their fish through the ice with Arrowhead Outfitters guide service.
The three largest fish in the derby all weighed at least seven pounds heavier than the 15-pound criteria set by the Alaska Department of Fish and Game to be certified as trophy pike.
One of the derby's primary goals was to catch and kill as many pike as possible, as the fish are considered to be an invasive species in Mat-Su waterways and are blamed for declining salmon and trout populations in some lakes and streams.
While biologists say it would be difficult for human anglers to make much of a dent in the pike infestation, anglers in this year's inaugural derby certainly did their best to try. The top three individual anglers in the contest pulled out 283 fish between them, and Sult said more than 200 fish came in just in the final two days of the derby.
Other winners included Wasilla's Patrick Merrigan for catching the lightest pike (six ounces), Bob Jones for the largest haul of fish in weight (206.5 pounds), and Wasilla's Clark Myers, who won for the most total length by turning in more than 200 feet worth of pike.
"We did the best we could," Sult said.
In addition to getting a large turnout from local anglers, Sult said the unorthodox derby has attracted the attention of a Minnesota fishing publication, which is planning its own feature story about the derby.
"We're going to market it Outside a little bit next year," she said.
Unlike in Minnesota, there is no limit on the number of pike anglers can catch in the Valley, with the lone exception of Alexander Lake, where pike between 22 and 30 inches must be returned to the water and only one pike over 30 inches in length may be kept per day.
Sult said she's already heard from people in the pike-crazy "Land of 10,000 Lakes" who can't believe such a no-holds-barred fishery even exists.
"They don't really get to go out and get a whole bunch of 'em like that," Sult said.
She's hoping the success of this year's derby, coupled with a little favorable press coverage in the Lower 48, could help the derby raise its profile significantly in the coming years and lead to increased business opportunities for vendors.
"This is turning into another good business endeavor for the Valley here," she said.
Some local businesses are already taking advantage of the fishery's growing popularity. Arrowhead Outfitters' fly-out pike fishing guides have taken advantage of what could prove to be a major sports fishery in the Valley, where pike are an unwanted species that appears to be in no hurry to go away.
Deb Moore, who runs Arrohead with her fiancee, Howard Tieden, said the couple has already booked trips for next year's season, inclduing a party of four Minnesota doctors.
"I think we're going to find this as a vacation spot for ice fishing," Moore said Monday.
And while the derby is now over, Howard Tieden said ice fishing for pike is still going strong on local lakes.
"We just caught a 20-pounder today," he said.
Contact Matt Tunseth at 352-2265 or matt.tunseth@frontiersman.com
Mat-Su Pike Derby
Final results
(Names available for first-place only)
Longest — 1. (tie) Peter Aftreth, Anchorage, and Dan Markgraf, Eagle River, 41 inches; 3. 39 inches
Heaviest — 1. Jaci Hart, Wasilla, 26.6 pounds; 2. 22 pounds, 5 ounces; 3. 22 pounds.
Shortest — 1. Bob Witz, Palmer, 7 1/8 inches; 2. (tie) 12 inches
Lightest — 1. Patrick Merrigan, Wasilla, 6 ounces; 2. 7 ounces; 3. 8 ounces
Most — 1. Bob Witz, Palmer, 124; 2. 98; 3. 61
Most pounds — 1. Bob Jones, Big Lake, 206.5 pounds; 2. 96 pounds; 3. 90.4 pounds
Total length — 1. Clark Myers, Wasilla, 2,415.75 inches; 2. 1,008 inches; 3. 702 inches
Print this story Email this story Post A Comment Digg del.icio.us
Copyright © 2008 Frontiersman
Comments
No comments posted.


WRITE A COMMENT
Use the form below to post a brief comment to this story, or respond to other readers. Please use the word count tool to assist you in keeping your remarks to 100 words or fewer.
Comments must be approved by an editor before appearing on the Web site. Editors review submitted comments periodically during the day for offensive or off-topic content before posting. Your thoughtful contribution to the online discussion is appreciated.

Name:

Email: (optional)

Derby rewards anglers for targeting evil pike
PRIZES: Harts land a 26-pound monster during the monthlong contest.
By RON WILMOT
rwilmot@adn.com
Published: April 1st, 2008 01:43 AM
Last Modified: April 1st, 2008 03:41 AM
Jacie Hart and husband Duane were rigging ice-fishing lines on Alexander Lake last week when the flag on a tip-up snapped up, indicating a northern pike had taken the herring bait. Jacie Hart grabbed the line with cotton-gloved hands and pulled. It wouldn't budge.
"I thought it was a little one wrapped around a log," said Jacie, of Wasilla. "Or we had the big one."
Duane thought it was a big one. He told Jacie to grab a gaffe.
"I thought, 'What am I supposed to do with this?' " she said.
Then the prehistoric mouth with rows of sharp teeth emerged, nearly filling the circumference of the hole.
Jacie gaffed the monster pike through the mouth and pulled it from the water. A whopper weighing 26 pounds, 6 ounces and measuring 45.5 inches long flopped on the ice.
Just 20 minutes after landing their Super Cub, the Harts had the longest and heaviest fish in the inaugural Mat-Su Pike Derby.
"It was unbelievable," Jacie said. The monthlong derby ends at 3 p.m. today. As of Saturday evening, almost 500 pike had been landed in waters throughout the Valley.
Palmer's Bob Witz led in three other categories as of Friday -- most pike caught, longest total length and most poundage. The 62-year-old Witz had brought in 91 pike weighing a combined 230 pounds and measuring, end to end, more than 166 feet.
His totals were surpassed by another angler on Saturday.
Witz is retired from the Army Civil Service and loves to fish. This time of year, when the hint of warmer weather gets fishermen itching to begin casting for spring rainbows, is perfect for pike, he said.
Witz rides his snowmachine to Flat Horn, Trapper and Figure Eight lakes in Susitna Valley to fish for pike beneath the ice.
Witz pickles most of his pike or gives them away to friends who enjoy the tasty white meat.
"Fried fish and fried potatoes are hard to beat," he said.
Members of the Houston Chamber of Commerce and Houston Lions Club dreamed up the winter pike derby. It accomplishes a couple of important things, chamber secretary Nancy Sult said.
• Anglers get a fun competition during a slow time of year.
• The Valley pike problem is highlighted. Native to the Interior, pike were illegally introduced in Southcentral Alaska waters. Aggressive pike voraciously eat salmon and trout fry, and the predators are blamed for decimating rainbow populations in several stocked lakes.
Pike have also contributed to sharply reduced salmon returns on Fish Creek, Alexander Creek and Lake Creek, Fish and Game area biologist Dave Rutz said.
The derby gives people a chance to reduce the pike population. On most lakes, there are few if any size restrictions and no bag limits. Up to five lines can be used. Pike can also be caught using a spear or a bow and arrow.
That many people consider pike a tasty game fish is a bonus.
Conoco Phillips became a major sponsor of the derby, and cash prizes are offered in several categories: longest pike, heaviest pike, most fish caught, total length of fish caught, total poundage, shortest pike and lightest pike.
Top prize in each category is $500 and a hand-carved pike decoy. Second prize is $250 worth of fireworks from Gorilla Fireworks and third is a $75 gift card to Sportsman's Warehouse.
Sult, who grew up fishing for pike in Minnesota, said the chamber plans to make the derby an annual event.
That was good news to Rutz, even though he said it would make only a small dent in the pike population.
"We're always in favor of removing pike from a lot of water systems," he said. "Though in places like the Susitna River system, you won't remove even a hundredth, or a thousandth, of the number of pike there."
Find Ron Wilmot online at adn.com/contact/rwilmot or call 1-907-352-6712.
13 April 5, 2008 - 8:37am | aakataq
pikeral
once upon a time pike and sucker fish were cousins but when conversation turmed sour suckerfish shoot arrows at his friend pike and took off, but pike had a second to shoot back at his fleeing friend andshot him on his tail. thats why there are arrow shape bones on the pike. and the suckerfish is one of the only fish with a boney tail. akumay! (the end)
reply | flag this »
12 April 4, 2008 - 7:55am | Birch
There are fortunes to be made
marketing Alaska as the 'Pike Paradise' to Iowans. a cousin who has a bait shop in Minnesota says Iowegians are crazy for 'Northerns.' Iowa has an abundance of bullheads and carp, so the natives swarm across Minnesota and Wisconsin looking for fish just like the one pictured. Now that ethanol is a big deal, Iowa farmers have real money in their pockets again.
reply | flag this »
11 April 2, 2008 - 3:25pm | johnnyhostile
Whoa..
Thats one hell of a pike!!
reply | flag this »
10 April 2, 2008 - 7:47am | leemayh
What Doesn't Belong
Last summer the blame on the low salmon returns to the Susitna River Basin was on the commercial salmon fisherman of the Kenai. I was at the Everglades in Feb. and anything that could live in the tropics has been released into the system including pythons that are numerous. I saw a 22 foot python skin there on the wall of a business. People are assholes.
reply | flag this »
9 April 1, 2008 - 12:10pm | sealion777
Get rid of the Pike
Can you imagine how may salmon smolt this pike ate in its years. It looks very healthy. Get after these salmon killers. Kill more Pike!!!!
reply | flag this »
April 3, 2008 - 3:11am | seanm
~
Call in Aerial Predator Control!
reply | flag this »
8 April 1, 2008 - 9:23am | siroisok
pike
The large one are comparable to halibut. Smoke the pike. It's very tasteful!
reply | flag this »
April 1, 2008 - 12:18pm | DecemberRain
Mmmmm. Pike!
Tasteful-- I've not heard that would used before but I like it!
reply | flag this »
7 March 31, 2008 - 9:50am | ykilbuck
Fishing
I got a Fishhouse Sled i bought for about $399. or somewhere in that price range - how could i rent the sled, and fishhouse? I could probably make the item sell by itself too. Though i didn't use the item since i bought the house.
Oh! I haven't caught any fish! Guess i seen my first monster pike, at the Village of Northway, Alaska. At Oscar Albert's yard.
reply | flag this »
6 March 31, 2008 - 5:24am | kmckeone
why?
Why if the goal was to work towards elimination of n. pike, did the fish & game dept. limit the number of lines that a fisherman could use?
reply | flag this »
5 March 30, 2008 - 6:51pm | puckster55pics
Evil Pike
Hi There,
You should try to market this to fishermen down here in the lower 48 who like myself LOVE to catch & eat these fish. If you market this opportunity correctly even in these economically challenging times you can get hundred's of fishermen to come up there for a chance @ "All You Can Catch Monster Pike"
Down here in Minnesota the pike is sought after for it's tenacity and it's great taste and trophy potential!
Just a thought.
Shalom
Chuck Ashley
p.s. I understand about how you feel about invasive species as we're dealing with that in Lake Superior as well as our smaller inland lakes. Good Luck
reply | flag this »
April 1, 2008 - 12:38pm | DecemberRain
shalom?
Are pike kosher?
reply | flag this »
4 March 30, 2008 - 3:43pm | stymie
"evil"? Now that's funny. Just like Jaws!
Hurricane Katrina was "menacing"
Africanized bees are "killers"
Wolves are "cold-blooded"
Nature is conspirin' agin' us!
reply | flag this »
3 March 30, 2008 - 2:22pm | blue_gold907
Kill
every one of these invasive predators. They don't belong on south central Alaska.
reply | flag this »
2 March 30, 2008 - 3:15am | artmeister69
Derby rewards anglers for targeting evil pike
Here is the Official site for the Pikeminnow program from the previous comment:
reply | flag this »
1 March 30, 2008 - 3:09am | artmeister69
Derby rewards anglers for targeting evil pike
I think a good start could be doing what Washing and Oregon State are doing. Go this link for a Fishing Reward Program. The top Fisherman made over 48K. Go to Page 42 of the report. Go to this site:
http://www.pikeminnow.org/reports/2006-Pikeminnow-AR.pdf
Open season on northern pike
By MATT TUNSETH
Frontiersman
Published on Monday, February 25, 2008 7:57 PM AKST
HOUSTON — The Houston Chamber of Commerce wants Mat-Su residents to help take a bite out of a toothy problem.
The chamber, along with the Houston Lion's Club, is sponsoring a month-long northern pike fishing derby whose main goal is to kill as many of the predatory fish as possible.
"We just want people to catch pike," derby coordinator Nancy Sult said.

With their voracious appetites and sharp teeth, pike have taken a big bite out of resident populations of salmon and trout in Mat-Su lakes in recent years. Sult said folks in Houston decided it was time to bite back — and have a little fun in the process.
"It's kind of a combination of fishing and hunting," she said.
The derby is offering cash and donated prizes in seven different categories, with divisions for the longest, heaviest, lightest and shortest pike; as well as most total pike caught, most total catch weight and greatest total length of fish entered.
"We want them to keep every one they catch," Sult said.
Thanks to a donation from ConocoPhillips, the top prize in each division will be $500 cash, while second-place will be good for $250 in fireworks from Gorilla Fireworks. Third place in each division is worth a $75 shopping spree at Sportsman's Warehouse.
Derby tickets are $10 each (or $25 per family) and can be purchased at a variety of local vendors. Sult said people can visit www.matsupikederby.com or call her directly at 232-1387 to find out more information.
"I've got unlimited minutes," she said.
While event organizers want people to catch as many pike as possible, she said the mere purchase of a derby ticket is enough to get into the action. Everyone who buys a ticket gets entered into a drawing for a Caribbean cruise, as well as other prizes that include fly-in fishing trips.
"There's lots of ways to win," she said.
In conjunction with the derby, Sult said organizers are planning "pike parties" March 8, 15 and 22 on Prater Lake, where people can enjoy fishing demonstrations, vendors and even warm fishing tents to make the ice fishing more enjoyable.
"It's going to be a blast," she said.
Pike are widespread in the Mat-Su Valley, though a little know-how is needed to go after them. Alaska Department of Fish and Game area management biologist Dave Rutz recommended using a steel leader with double hooks and bait.
"The best success we've had is using herring with a double hook set-up," he said.
Pike are attracted to shiny objects, so jigs and lures also work, he said.
A listing of lakes that contain pike can be found on the department's Web site (www.sf.adfg.state.ak.us/region2/pike/index.cfm), as can informational brochures describing how to clean the bony fish.
Rutz suggested several area lakes for people to try, including Prater, the Nancy Lakes system, Long Lake, Memory Lake and Crystal Lake. Up to five lines can be used at one time on most lakes, although people should check regulations before they head onto the ice. There is no limit on pike except for on Alexander Lake, where people can catch as many pike under 22 inches, but must return pike between 22 and 30 inches to the water. Anglers may only keep one pike longer than 30 inches from the lake. Also, Rutz said that bait is not allowed in Big Lake.
Another thing to keep in mind is that a valid fishing license is required, and authorities will be checking. Earlier this week, an Anchorage man was cited for fishing without a valid license on Finger Lake in Palmer, earning himself a $210 fine.
The derby begins March 1 and runs through the end of the month.
Groups go after salmon-eating northern pike
OPEN SEASON: Houston declares derby to cut back predatory fish.
By RINDI WHITE
rwhite@adn.com | rwhite@adn.com
Published: January 23rd, 2008 01:17 AM
Last Modified: January 23rd, 2008 01:47 AM
HOUSTON -- Look out, northern pike. The Houston Chamber of Commerce and the Houston Lions Club have come up with a way to get even for declining salmon populations in Valley lakes and streams: Make pike-slaying a sanctioned event.
Story tools
That's right. In March, the group is hosting a monthlong pike derby, the goal of which is to hook as many pike as possible.
"That's really the name of the whole thing, is to get as many as we can. They're eating our salmon," said Houston chamber secretary Nancy Sult.
If you don't like the taste or can't afford the freezer space, Sult said the chamber has takers for the fish.
Some of the pike will be cooked at a March 30 derby awards banquet, she said. The rest will be donated to food pantries.
"We don't want anyone throwing anything back, trying to get the big one," Sult said.
Pike pose a problem to Valley streams and lakes because the fish prey on young salmon, which can result in low adult salmon returns. According to Fish and Game Department biologists, pike were likely introduced in the area in the 1950s. The growing pike population has meant changes to stocking practices, such as stocking fewer, catch-size fish instead of a higher number of the fingerling-size fish that pike readily consume.
Sam Ivey, assistant Mat-Su area sport fisheries biologist for Alaska Fish and Game, said Alexander Creek has been particularly hard-hit by pike, so much so that the state Board of Fisheries will next month consider several proposals to close king salmon fishing in that area for the next few years.
"There've been other places in the Valley where stocks have been pretty much decimated or eliminated" thanks to pike, Ivey said.
PIKE PLACES
Some of those places might make the best fishing spots during the derby. Dave Rutz, Mat-Su area sport fisheries biologist for Fish and Game, suggested dipping a line in the Nancy Lake system or carving a hole in Fish Creek or Kroto Slough.
Pike are generally sluggish in colder weather, which might prove a boon to ice-fishers.
"Just keep drilling holes and moving," Rutz suggested.
Derby organizers plan to have pre-drilled holes, warming barrels, a coffee cart and a hot dog stand March 8 and 15 at Prator Lake in Houston.
Access to the lake is on Castle Drive, off King Arthur Drive.
Holes might be drilled on other lakes, depending on demand, Sult said.
"It will have kind of a party atmosphere. We'll have our own mini-winter festival," Sult said.
The chamber is planning several competitive categories, including most inches of pike caught, most pounds of pike caught and even a category for the smallest pike caught.
They're amassing prizes too. To date, the big prize is a ticket drawing for a five-day Caribbean cruise from Choice Mortgage.
Other prizes include big fireworks packages for derby winners and a two-for-one pike-spearing trip from Arrowhead Outfitters, a Palmer-area guiding company that this year began offering fly-in pike spearing trips to local lakes.
FISHING RULES
The rules are simple: Buy a ticket, catch a pike anywhere in Mat-Su, get it weighed and measured at Houston Lodge, at Mile 57 Parks Highway, and let the event organizers keep a tally.
Tickets are $10 for individuals and $25 for families, Sult said. Catches will be tallied and winners announced at an awards banquet planned for 5 p.m. March 30 at Houston Lodge. Every fisherman needs a current fishing license, she said.
Rutz said participants should study state fishing regulations before heading out to fish.
Five lines are allowed in some areas but only two in others, he said.
And the best bait, herring, can be used in lakes, but not on flowing water, like streams.
Find Daily News reporter Rindi White online at www.adn.com/contact/rwhite or call 352-6709.
Groups go after salmon-eating northern pike : comments
Posted by admin
Posted: January 23, 2008 - 2:27 am
Return to Groups go after salmon-eating northern pike
add new comment
15 January 27, 2008 - 6:07pm | nancysult
fish comments at the next board meeting
January 30 at 2pm Best Western Lake Lucille Inn you can give you comments directly to Fish and Game folks. Maybe is fishermen and women if the valley represent themselves at these meetings their opinion will be heard. If no one but commercial fisher people give opinion then thats all they will listen too. So if you care about the sport and subsistence fisheries in the mat su .......Ill see you there!
edit | reply | flag this »
14 January 26, 2008 - 12:57pm | graykeeper
another humans know best story
Blaming low salmon numbers on pike is the same as blaming low moose numbers on wolves. The real problem is over fishing and over hunting and abused habitat. But user groups will do what they want to protect "their" sport. It will be interesting to see what happens to the ecosystem when the pike are exterminated. Probably nothing good for the salmon (since they are overfished). Probably the bears wil get blamed next.
Wildlife management based on science would probaly offer some hope. Alaskas game management system based on the demands of user groups is out of date and is a sad joke.
reply | flag this »
13 January 25, 2008 - 1:29pm | tkelley
The real story about Alexander Creek
The Alexander Creek pike problem was mentioned in this article. Folks need to know the whole story here. The problem is not simply that pike have multiplied at Alexander Creek. The main problem is that pike habitat there has increased immensely. Alexander Creek used to be a much clearer, faster moving stream with a gravel bed. Pike weren't a problem because they had a hard time living in this creek.
But due to decades of massive jet boats ripping up and down this stream and their wakes eroding the delicate silt banks – Alexander Creek is much wider, slower moving and the gravel on the streambed is all covered with mud that supports dense plant life and … pike. This once pristine creek is now a poster child for what happens when the State of Alaska sport fishery managers are lobbied and corrupted to the point that they only manage one salmon river in the state – the Kenai River. Other Mat-Su salmon rivers are facing the same death. Wake up folks, and fight back to keep your favorite rivers from being killed by mismanagement.
reply | flag this »
12 January 24, 2008 - 2:58pm | atanaq
dried and dip into uquq
if you know what I mean...desert with luqruyak meluk akutaq and saiyuq and klipaq...mmmmm.
reply | flag this »
11 January 24, 2008 - 3:23am | jimski2
Pike and salmon
Fish and game guys should allow the use of hoop or trap nets on these lakes to remove foreign invader pike or at least put some control on their numbers.
reply | flag this »
10 January 23, 2008 - 9:52pm | nancysult
Pike Derby sponsors needed
Hi all,
The Mat-Su pike derby needs more sponsors, if anyone would like to donate a prize, please call 232-1387 or drop it off at the Houston Lodge. This is going to be a fun event! Lots of Minnesota men:)
www.matsupikederby.com
edit | reply | flag this »
9 January 23, 2008 - 5:54pm | emandj
Strip that skin
off with a pair of pliers as soon as you catch em.
reply | flag this »
8 January 23, 2008 - 1:53pm | eclaytonlewis
Major good eating
Pan fried in butter with a little pepper, oh God it is good!!!!
reply | flag this »
7 January 23, 2008 - 9:37am | cnhakes
Yummmm Sluuuurp
Battered, deep-fried pike, washed down with beer!!!!!!
Easy to catch. Pike will eat anything either because they are hungry or because they get mad at it. And they're always either.
W
reply | flag this »
6 January 23, 2008 - 9:37am | cnhakes
Yummmm Sluuuurp
Battered, deep-fried pike, washed down with beer!!!!!!
Easy to catch. Pike will eat anything either because they are hungry or because they get mad at it. And they're always either.
W
reply | flag this »
5 January 23, 2008 - 8:29am | knightmike
Great
This is a great idea, they should do these events more often and in Anchorage too, the pike are a real problem, Fish and Game should also let people fish for pike without buying a fishing license.
reply | flag this »
4 January 23, 2008 - 6:54am | tundraspirit10
mmm,, mmm,, good
help save salmon,, eat pike
reply | flag this »
3 January 23, 2008 - 6:51am | tundraspirit10
mmm,, mmm,, good
catch em, cut em, dry em, eat em, mmmm!!
reply | flag this »
2 January 23, 2008 - 6:30am | blue_gold907
Pike
Great event. Pike in southcentral Alaska are on the move and it's only a matter of time until these predators wipe out the indigenous trout and salmon.
reply | flag this »
January 26, 2008 - 2:52pm | graykeeper
kill them all!!
I guess you forgot Northern Pike are indigenous to the area as well. The only foreign invaders to the area are the fishermen and their plans for salmon domination at any expence.
reply | flag this »
1 January 23, 2008 - 2:27am | upparoni
Good one!
Years ago while listening to Bethel's KYUK live call-in birthday show.
This fine gentlemen had opened his greeting with:
"You may think you are Bethel's best hooker, you're not...Happy Birthday______" (Names with held for anonymity)
The lady who was the recipient of the greeting was on a front page picture of a weekly periodical hooking for pike under the ice!
:)
Movers & Shakers
Steve Gage, assistant medical director for SouthEast Alaska Regional Health Consortium Community Health Services in Sitka, won the Alaska Academy of Physician Assistants' Physician Assistant of the Year Award for 2008. Gage earned his physician assistant certification from the University of Washington's MEDEX Northwest Division of Physician Assistant Studies program and has practiced in Alaska for 28 years, the last 18 in Sitka. He also served on the AKAPA board of directors for five years, and spent a year as president of the organization.
Teri Arion, Will Rhodes and Mark Aimonetti have joined the staff of R&M Consultants Inc. Arion is a GIS specialist in the firm's earth sciences department. She joined R&M from the state Division of Oil and Gas, where she was a cartographer. Rhodes, an environmental engineer, managed all aspects of a state Department of Transportation and Public Facilities project to test field dissipation of a selection herbicide in two Alaska climates while earning a graduate degree at the University of Alaska Fairbanks. Aimonetti joined R&M's surveying and mapping department as a senior land surveyor. He has more than 11 years of experience in field and office work.
Mike Hayhurst has been named managing partner of the Anchorage office of KPMG LLP, the audit, tax and advisory firm, effective Jan. 1. He succeeds Kathy Porterfield, who was appointed managing partner of KPMG's Seattle office in September. Hayhurst joined KPMG in 2002 and is a partner in the firm's audit practice. He brings 18 years of experience to his new role, having worked with publicly traded and privately held corporations in the forest products, agribusiness, manufacturing, consumer and high technology industries. He holds a degree in business administration from Idaho State University.
Twelve Alaska artists will share $58,917 in the year's final Rasmuson Foundation awards for individual artists. Their projects range from poems and illustrations for installation in city busses, to the publication of novels and music CDs, to equipment and opportunities for advanced study. The group includes Gretchen Diemer, Wasilla; Sharon Ennis, Anchorage; Garry Kaulitz, Anchorage; Margo Klass, Fairbanks; Emily Kurn, Anchorage; Lance Lekander, Anchorage; Maia Nolan, Anchorage; Sheryl Reily, Ester; Monica Savage, Petersburg; Elise Strauss, Anchorage; Wayne Thompson, Homer; and Monty Mykolas, Fritz Creek. Project awards paid directly to individual artists are a program of the Rasmuson Foundation Arts and Culture Initiative, a 10-year, $20 million investment to increase the impact of arts in Alaska. To date, the Foundation has awarded $1,016,538 to 144 artists.
Alaska U.S. Sen. Lisa Murkowski has received the National Association of Manufacturers Award for Manufacturing Legislative Excellence. The award is given to members of the U.S. House and Senate who support key manufacturing votes 70 percent or more of the time. In the 110th Congress, 43 senators and 181 representatives earned the NAM Award from the nation's largest industrial trade association.
Dr. Terry Osback is the new medical director of the Anchorage Community Mental Health Services, which serves adults who are severely mentally ill, children who are severely emotionally disturbed and seniors who have Alzheimer's disease or other age-related dementia. Osback studied at the University of California, Berkeley. Osback worked as medical director at the Alaska Psychiatric Institute from 1997 to 2001. He also worked for Santa Clara Valley Medical Center in California.
Lodge owner Peter Schadee, Mat-Su Convention and Business Bureau Executive Director Bonnie Quill, and Monica Barton of First National Bank, as well as the Houston Chamber of Commerce and the Iditarod Trail Sled Dog Race all were honored Nov. 7 for outstanding service to the visitor industry. The awards were presented by the Mat-Su Convention and Visitors Bureau. Schadee, owner of Knik River Lodge, won the Cheechako Award for a relatively new business thriving in its early years. Quill won the Tourism Angel award, for her work at the convention bureau, as president of the Glenn Highway Scenic Byway Partnership board and on the board of the Alaska Travel Industry Association. Barton won the Spirit of Tourism Award as someone outside the tourism industry who has given significant support to tourism. The Northern Lights Award went to the Houston chamber for the Mat-Su Pike Derby, which promotes winter tourism. The Gold Star Award went to the Iditarod Trail Sled Dog Race for outstanding tourism promotion and a contribution to the industry. Dan McDonough was elected and Dee Dee Kay re-elected to the board, and Nicole Bendle of First National Bank Alaska was elected to membership. The 2008-2009 officers chosen were Karen Harris, Alaska Garden Gate B&B, president; Cheryl Metiva, Greater Wasilla Chamber of Commerce, vice president; Kristi Schneider, Alaska Railroad, secretary; Wes Tegeler, Tegeler and Associates CPAs, treasurer; and Dan McDonough, Lifetime Adventures, executive board member. Other board members are Mike Hudson, 3 Rivers Fly and Tackle; Steve Zadra, Princess Cruises and Tours; and Vern Halter, Dream a Dream Kennel.
Barbara Barnes was appointed as assistant cashier and promoted to Juneau branch manager of First National Bank Alaska. Barnes has worked in the banking industry since 1974 and has been with First National since 1998. She began her career at the Juneau branch of First National, Alaska's largest Alaskan-owned and operated bank.
Geneva Walters is the new chief operating officer of Lottsfeldt Strategies. Agency principal Jim Lottsfeldt will remain as chief executive officer and creative director. The firm also is reverting to its original name, Lottsfeldt Strategies. Walters will oversee the daily operations and provide the necessary project management, as well as strategic development for the firm.
Dave Marshall is the new senior operations director for Doyon Universal Services. He has more than 25 years of experience in logistics support, supply chain and procurement management and facilities services. Most recently Marshall was a project manager responsible for all janitorial, utility and facility maintenance operations in the ConocoPhillips Towers. He is also a member of Building Owners and Managers Association.
Rebecca Fann has been named vice president of Safeco Insurance and the firm's Northwest regional general manager, responsible for profit and growth throughout Safeco's five-state Northwest territory. Casie Bowers has joined the firm as an agency manager representing Oregon and Southwest Washington, with Mark Cummings representing eastern Washington, Idaho and Montana, and Angela Thompson representing Alaska and Western Washington. Safeco Insurance and Liberty Northwest are both Liberty Mutual Agency Markets companies. Guy DeCosterd joined Liberty Northwest's commercial lines operations to manage Alaska and western Washington, while Ken Koehler will manage the Portland region. Both came to Liberty Northwest from Safeco insurance. They form a regional executive team of four that also includes Mark Backstrom, managing Eastern Oregon and Southern Idaho region, and Thomas Becker, who manages the Eastern Washington, Northern Idaho and Montana region.
Dee Nelson was recently honored as the 2008 Alaskan Payroll Professional of the Year by members of Alaska chapters of the American Payroll Association. Nelson has been payroll manager for Alutiiq LLC since 2005 and a payroll professional since 1991. She has been a member of the APA since 1998, and is responsible for payroll for 5,000 employees in all 50 states as well as 11 countries. She is a founder, member and current president of both the Northern Lights Alaska and Mat-Su Valley chapters of the APA.
Stanley "Stosh" Hoffman Jr. of Bethel has been appointed to the Alaska Board of Game. Hoffman has been director of corporate facilities for the Yukon-Kuskokwim Health Corp. since 2007. He worked for the city of Bethel from 1998-2007 in a variety of positions, including projects/safety manager, operations manager, assistant port supervisor, and construction project foreman supervisor. Hoffman has been a commercial gillnetter in the Kuskokwim River since 1987 and a state-licensed assistant guide in the Holitna watershed since 1997. Hoffman fills a public seat vacated when Craig Fleener of Fort Yukon left the board to become director of the Alaska Department of Fish and Game's subsistence division.
Six individuals and a rescue squad were award winners at the 31st annual Alaska EMS awards banquet at the Egan Convention Center in Anchorage Nov. 15. Larry Eggart of Nome was honored with the EMS Citizen Award for life-saving rescue as an Alaskan Bush pilot. Virgie Hartley-McKeown of Willow received the EMS Provider of the Year Award, honoring 40 years of service. MariBeth Buechel of Unalaska won the EMS Educator Award, and the George H. Longerbaugh Memorial Award went to Dr. Karen O'Neill of Nome. The Melissa Ann Peters Memorial Award went to Mary Baker-Kaspari of Delta Junction in recognition of two decades of support and encouragement of EMS personnel. The Outstanding Ambulance Service Award went to the Delta Rescue Squad of Delta Junction, in recognition of the dedication of the all-volunteer squad in serving a geographic area of 12,000 square miles with response times of up to six hours. Teresa Markham of Bethel received special commendation for her positive attitude, passion and enthusiasm as a valuable EMS educator.